Different types of printed self-adhesive tape can be designed to provide extra security, advertising, instructions, or a way to gather information. At TAPE-RITE, we do our own printing, so we control the entire process. Not all tapes can be printed, so check to see if we can do what you want. Contact TAPE-RITE today using our contact form or call us at 1(800)882-7348 to see how we can solve your sticky problems.
Printed plastic tapes are made from PVC or Polypropylene. They are available in a wide range of colors to match your package or logo.
These tapes are generally used for closing packages, but you can also turn them into pre-printed forms that allow variable information to be filled in by the user.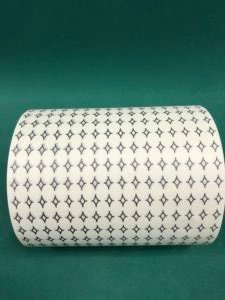 We can now print on regular masking tape. It can be used for identification, decoration, packaging, and advertising.
Flatback masking tape is a thicker, smooth backed masking tape that is durable enough to close small packages, but can be torn by hand. Often used as a security seal, it also works well on small bags and boxes.
Flatback masking tape is available in white, black, red, yellow, light blue, light green, and orange. Custom colors are available.
These tapes are made from kraft paper coated with a water activated gummed adhesive. These tapes need to be used with a gummed tape dispenser.
They are available in kraft (standard) as well as white, yellow, red, blue, green, and more. Custom colors are available.
Printing on cloth tape is much more difficult than you probably think. The surface is rough and inconsistent which can make the imprint look blurry. The cloth absorbs the ink, which tends to wash out the color and make it look very light.
It has taken a really long time, but we have developed techniques that allow us to do a pretty good job of printing on this stuff. Printed athletic tape makes a great party favor or premium giveaway for a sports themed event or fund raiser.
Printed duct and gaffers tapes are a great way to get your name in front of customers at construction sites, concerts, or any other event where you need to hold down wires or ground covers.